20 Hour SAFE Loan Originator Pre-Licensing and Exam Prep
CE Forward, Inc. is an NMLS Approved Course Provider #1400068 doing business under the name National Association of Mortgage Fiduciaries.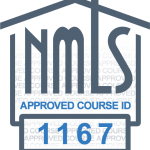 20 Hour SAFE Comprehensive Pre-Licensing and Exam Prep
NMLS Approved Course # 1167 (approved in all 50 states)
4 Hour Wa State Law Pre-Licensing
NMLS Approved Course Number #3430
WA State LOs: Before choosing your course provider, double check to be sure you are also receiving your required 4 hours of Washington State Law! Our course provides this important component at no extra charge!
Your NMLS credit banking fee is also included in our fee.
Location:
TBD
Classes are rotated between:
Bellevue, Seattle, Lynnwood
Visit the events page for all scheduled classes
(Location subject to change. Please pre-register prior to the start of class to receive all pre-class instructions including directions to the class location.)
$549
(includes 20 Hr + 4 Hr Wa Law Live Course, Coursebook, Exam Prep and NMLS Credit Banking Fees)
Day 1: Mortgage Lending Fundamentals
Loan origination, Processing, Underwriting, Credit, Title, Escrow, Loan Programs, Mortgage Math, Non-Traditional Lending.
Day 2: WA State Law plus  Ethics, Consumer Protection, Mortgage Fraud
Day 3: Federal Law ~ Exam Prep
TILA, MDIA, FRB Rule on LO Comp, RESPA, MARS Rules, ECOA, FCRA, SAFE Act, Dodd Frank Act, Fair Housing, more federal laws, and final practice exams.
This classroom course meets the requirements set forth in the SAFE Mortgage Licensing Act for new loan originators seeking licensure under the Nationwide Mortgage Licensing System.  In addition, this course will also help loan originator candidates prepare for their national exam.
This course ALSO includes the required 4 Hours of Washington State Law:
"4 Hour WA State Law Prelicensing Elective"
Alert! NMLS requires course providers to bank your credit hours in the system and we need your NMLS number in order to give you credit for your attendance.  Please bring your NMLS Unique Identifier to class. If you do not have your NMLS number yet, there is no cost to complete a base record.
READ MORE FREQUENTLY ASKED QUESTIONS
__________________________________
To register, click through from our See all scheduled classes on the Events page.
Questions? Call 206-931-2241 and ask for Jillayne
__________________________________
NAMF is an NMLS-Approved Course Provider #1400068
Comments from End-of-Course Evaluations:
"The personal instruction and ability to ask questions was incomparable! I learned more in this class than all of my previous month's studying."
"I took an online pre-licensing class and retained nothing and failed the exam.  One of my co-workers raved about this class so I came and I can honestly say I wish I would have come to the live class first and I'm so glad I came. Thank you!"
"Great class–enthusiastic and passionate teacher made what could have been very boring an interesting and informative experience."
"Interactive, informative. Way better than reading online."
"A very positive experience. Jillayne was energetic, friendly and extremely informative."
"Super fantastic course."
"The comprehensive pre-licensing class was very informative. Jillayne has effectively prepared me for licensing."
"This class was great! Good group of students with great dialogue and guidance by our instructor."
"These three days have been an excellent use of my time."
"I'm an experienced loan originator but needed to take the 20 Hour required course due to licensing requirements.  Even with my many years of experience, I learned some new things about my industry and I especially like how the class time was to help us prepare for the national exam."
"Will highly recommend this class to my friends."
"Interesting case studies, great interaction between students, both experienced and new LOs."
"I liked having a mix of experienced as well as new LOs in the class."
"The way our instructor was able to teach to both levels of LOs (new and seasoned LOs) was very enjoyable.  When I got back to work, I actually missed being in class!"
"The interaction between the instructor and students kept the class moving and interesting."
"Despite already knowing a lot about the industry, I thoroughly enjoyed this class and learned quite a lot! I loved your enthusiasm and commitment to making this a better industry for everyone still here."
"Instructor taught the class in a way that was interesting, humorous and enjoyable. Laws, facts, principles were presented very clearly and discussed thoroughly enough that there was lots of time to understand the material. Great instructor, enjoyable class."
"I feel well prepared for the national exam."
Percentage of students answering "yes" on the required NMLS evaulation questions:
Did you find this course to be of value as you work to achieve your prelicensing goals?
YES:  99%
Would you recommend this course to a friend?
YES: 99%
All things considered, were you satisfied with the course and the experience you had with the course provider?
YES: 99%
Did you find the instructor to be knowledgeable in the course outline?
YES: 99%
Did you find the course materials to be informative and useful?
YES:  99%
*****
WA State LOs: Before choosing your course provider, double check to be sure you are also receiving your required 4 hours of Washington State Law! Our course provides this important component at no extra charge!